Blogs and articles
International IPS Learning Community Annual Meeting 2022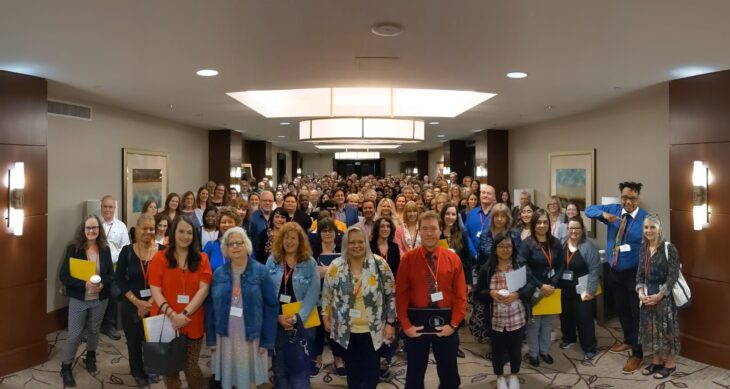 Jan, Julie, Gary and Lynne represented England at the International IPS Learning Community's Annual Meeting in Detroit in early May. The Learning Community started in 2001 and has grown to include 26 US states and six countries (Canada, England, Italy, New Zealand, Spain and The Netherlands).
With over 200 delegates coming together for the first time since May 2019, it was a great opportunity to network and share learning from other IPS services and systems. The England team made many new contacts including the Office of the President of the USA! They connected with several US-based State Trainers with the aim of creating shared learning networks and reconnected with European colleagues.
There were many great IPS discussions and innovative approaches in working with client groups. Australia is investing millions into their Early Intervention teams as well as focussing on trauma informed work.
Bob Drake commented on the amazing work that England is doing with the roll out of Drug and Alcohol IPS services and is looking forward to learning from England. We learnt about the National Drug Strategy and "recovery, ready workplace policies" to support people with addictions in their returning to work. Alcohol and addictions are being regarded as a disability.
The use of the IPS Y scale was discussed and whether the elements of the scale relating to entering education or skills training should only be used with a young population or could be applied to all ages, as IPS is about a career support into the right job not just a job after all. We heard about the research work that The Netherlands is conducting and their development of manuals for IPS and IPS in Addictions.
The work that Gary (and Hlynur from Iceland) have led on creating the IPS Europe community was well received, and both were given Excellence in IPS leadership awards in recognition. Julie received an Excellence in IPS Training Award in recognition of the work with partners in developing the new IPS Team Leader course.
There were lots of interesting breakout discussions, so the team split to ensure as many topics as possible were covered. Some breakouts focused on job roles so that trainers, researchers, programme leaders etc could network with their peers. The other sessions focussed on topics such as drug and alcohol, supported education, family engagement, leadership strategies for implementation, cognitive strategies to optimise work performance, research, tools and strategies for different populations and IPS beyond the mental health setting.
Members of the new Equity, Diversity, and Inclusion (EDI) Committee hosted three amazing break-out groups challenging perception and practice, commenting that this was the first time that EDI had been on the agenda of an annual meeting.
There were some major changes in IPS leadership. Columbia is now the new host of IPS Works.
Sadly, Debbie Becker officially announced her retirement and is due to retire at the end of June. Sarah Swanson was later announced as her successor.
Bob Drake ended the conference talking about future directions for IPS. His final thoughts reminded us of what a powerful movement for change the IPS community is. Not just system change but changing lives of individuals. Bob gave a heartfelt thanks to everyone internationally for all that you do.
And finally, some collective thoughts for the UK:
How do we all ensure fidelity to the model in England and in the European Community with the continued expansion of IPS?
How can we ensure better access for all and ensure/promote EDI practice in our IPS services and organisations?
Do we need to have a clearer national research strategy?
How can we best support different client groups in particular refugees, people with complex needs, people at the higher end pay bracket, people who have experienced trauma, people leaving prison? And how can we connect better with family members?
Shall we host our own national IPS conference next year?
To share your thoughts for the UK please contact us at support@ipsgrow.org.uk