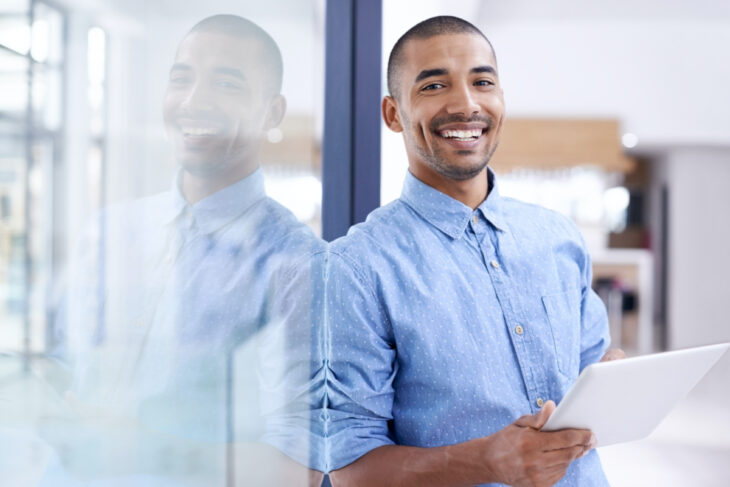 I first met my Employment Specialist Ash with my Care Co-ordinator Tilly. Tilly had talked to me about Enable and I was given the opportunity to meet with someone from the team before I was referred – to learn more about what they did.
Once I was referred, my first meeting with Ash focused on building rapport, how my MH affected me, and starting to think about how we would work together.
I was very nervous at the first meeting and also quite skeptical as to whether Enable would be able to find me anything or even whether employment was the right thing for me to do. Would they be able to deal with all of my cant's / don'ts/wont's etc.
By the end of the meeting, I felt exhausted – all I did was sit and talk, but I still felt exhausted.
My mental health was very bad when I first met Ash – my anxiety was through the roof. I was having regular suicidal thoughts, couldn't socialise, couldn't spend time with my family – I struggled to do anything. I thought that work was years away in the future and would be physically sick at the thought of going out with friends or family.
Having Tilly my Care Co-ordinator pick me up and take me to the meeting made all the difference and made that first meeting possible.
My dream goal was to get back into admin work and a safe office environment, but at this stage I didn't really believe I had the capacity to do this – I didn't believe this goal was in sight at the time.
Societal expectations were a big part of my motivation for wanting to work – it is something everyone else did, I felt the absences and lack of things in my life, like the feeling of getting up and going into work, going out with friends and enjoying yourself. I also wanted back the life I had previously had which included work. I wanted to get back on to the ladder of normality and purpose.
I had a yearning for purpose – a greater meaning in my life, something that's mine – a desk, a phone an email address. Things that others take for granted.
I couldn't drive and couldn't use public transport due to my anxiety levels. I didn't have the ability to look for jobs and spot the potential in myself – I could only see the negatives. I couldn't complete application forms – the act of selling yourself and blowing your own trumpet, I didn't even feel as if I had a trumpet. I felt that I was not worth anything and this negativity had become ingrained in me. In other jobs – I had been physically sick whilst at work up to 5 times a day.
The first few meetings were joint meetings with Tilly – building that rapport and trust. She was able to help me answer questions – my memory back then was terrible – so Tilly was able to help with this. Having Tilly there made a big difference.
Ash and I then started to then meet out in the community at a café near where I live – this helped me to get used to leaving the house and being in public. If the weather was nice we would go for a walk, which also helped with my mental wellbeing. When I couldn't leave the house Ash was able to come and see me. The support I was given was very much catered to what I needed and what suited me.
Ash was able to connect with me and would ask about my family and how the weekend had been. I didn't feel like a client but more like a friend – from a human perspective it was important to feel this way.
In our meetings – we would look at employers in the local area to build up ideas of employers I might be able to get to and where I would like to work. We discussed different possibilities and the focus was very much on paid work from the start. Ash would support me with applications – it was very useful to be able to do this with someone who believes in your worth and believes in what you have to offer.
We also looked at my triggers and used my experiences from my previous role. We agreed that finding something less sales focused, and more customer focused would help with my anxieties. Also finding a role where I could have a desk near to a bathroom – just in case.
I applied for a role with a large employer as an Admin Officer and was offered an interview. Ash set up a mock interview with 2 other Employment Specialists from the IPS team – they used the Job Description and Person Specification and tailored the interview questions based on what the employer was likely to ask.
I wore my suit and I was very much in the mindset of an interview: how do I tie a tie, were my shoes clean, are my trousers ironed? This meant that all of these worries were taken care of in advance – allowing me to be more focused and relaxed at the actual interview.
Work has been a whole life line to me.
I am still supported by Ash.
A few months into the role I was having some issues with another member of staff – Ash was able to organise a meeting with myself, my line manager and my team manager and was able to support me to express my concerns and to agree on a strategy as to how to overcome these concerns.
I wouldn't have been able to get into employment, never mind into a good role like this without Ash. This is the first job I have had where I am not on the lowest rung of the hierarchy. It is full-time and not an entry-level position.
My mum and Dad's expectations of me were hugely exceeded.
The alarm goes off at 7.22am, there is a job that needs doing so you get up and go. It has restored my confidence – my friends say that I am a different person. I can now go out with friends and family at the drop of a hat – I feel more like my old self. I am able to do things with my niece and nephew again. I am getting back into driving again. I have been able to save and start thinking about getting my own place.
I have a network of support – not just through Ash but in work as well – there are people who know about me and my condition. I am one of the popular people in work – it has given me a new lease of life.
Hear from Adam's parents and employment specialist:
Adam's parents talking about his recovery
It is not too dramatic to say that the change that we have seen in our son Adam as a result of the intervention of Ash and Enable, is nothing short of a miracle.
They took a young man who felt disillusioned, embarrassed, ashamed and rejected following a series of employment disappointments, which had resulted in Adam feeling very depressed and anxious, and turned him into the proud, confident and determined son we have today.

Adam's parents
We always knew this was within Adam, but his low confidence and self esteem, would not let Adam believe anything his parents told him, and it was not until Ash took on Adams case, that Adam started to believe in himself.
Ash helped Adam by assisting him with job application forms, creating a strong CV, interview techniques and interview practice, even driving him to interviews and supporting and mentoring him throughout. Adam has continued to develop and shine and it is testament to the dedication of Ash and Enable.
Without their invaluable intervention and help, Adam would not find himself in the favourable and encouraging position he is in today, and we owe our thanks and gratitude to all involved in making the man we see today. A few years ago, we as parents could not see a light at the end of the tunnel for Adam, and we could only dream of him being in such a brilliant place today.
Adam's Employment Specialist, Ash – talking about Adam's recovery
I met Adam for the first time at the enable offices in a quiet meeting room, with his mental health worker Tilly. At the time he was suffering with severe anxiety to the point that he was being physically sick during our meetings. He had very low confidence and self-esteem.
Tilly came along to the first 5 meetings with myself and Adam and this made all the difference in terms of Adam getting to know and trust me and for me getting to know him and understanding his needs. Even after Tilly stopped coming to the meetings we kept in regular contact throughout.
The first few meetings were spent getting to know Adam and helping him to build his confidence in me. We started to complete the vocational profile – I learnt as much as I could about him: his hopes and dreams, who is important to him in his life and everything about him and his mental health condition and how that affects him on a daily basis.
If he was feeling too anxious we would meet in the park instead and chat while we walked around.
We discussed in detail what to say to employers about his mental health and Adam agreed that I could let any employers I spoke to know about his mental health. We worked out together how to say this and to make sure that it was done in a positive tone. We revisited this each time we met to make sure that Adam was still happy with this.
I started to speak to employers after our second meeting – I wanted to find out more about the labour market and what was expected of the roles Adam was looking for.
We set up a mock interview with 2 colleagues of and Adam was given feedback at the end of this to help improve his performance at interview.
On the day of his interview I picked Adam up from home, we went for coffee first to calm his nerves. Adam's mock interview had taken place in the same room as his actual interview, which made him feel more secure and comfortable. Adam wanted to do the interview alone so I made sure that I had made the employer aware of all of his strengths and the support that would be available to both them and Adam if he was successful.
He was! We then sat down with Adam's new manager and drew up an in work support plan in preparation for his start date. This plan included looking at triggers, early warning signs of health deteriorating, how to keep healthy whilst at work. We also looked at practical issues such as travelling to work and the day to day changes that work would bring about. Regular review dates were set, weekly to begin with and then monthly. There were a few issues when he first started, but down to the regular reviews and the in work support plan these were quickly resolved.

Enable
Adam received his IPS support through Enable, a specialist mental health employment service in Shropshire.